31 Aug

Ashley's Story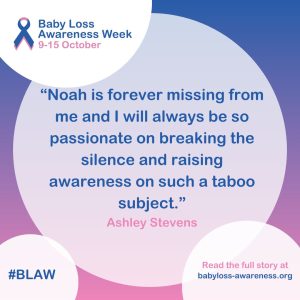 In December 2018 on Christmas Eve, I was admitted to my local hospital due to heavy bleeding following a series of complications. I had a 4-week hospital stay of intense and life-saving treatment and I went into preterm labour due to a placental abruption caused by the irritation of the womb, which was caused by the bleeding.
My boy Noah was born on 21/01/2019 at 23 weeks + 1. Sadly he didn't survive the birth. To say this has changed me as a person and my outlook on life would be an understatement. Noah is forever missing from me and I will always be so passionate on breaking the silence and raising awareness on such a taboo subject.
It really is the worst pain that any human can face… literally nothing compares. My boy was born 1lb in weight and it was difficult to source clothing for him. Therefore, fundraising in his honour and donating to families and hospitals really does help.
"No footprint is too small that it cannot leave an imprint on this world". Sleep tight my beautiful, tiny boy. X
---
There are many organisations that offer support to anyone affected by pregnancy and baby loss.
Sands supports anyone affected by pregnancy loss or the death of a baby and works to save babies' lives. Contact their Helpline via phone (0808 154 3332) or email, or visit their Support Groups online or via Zoom.