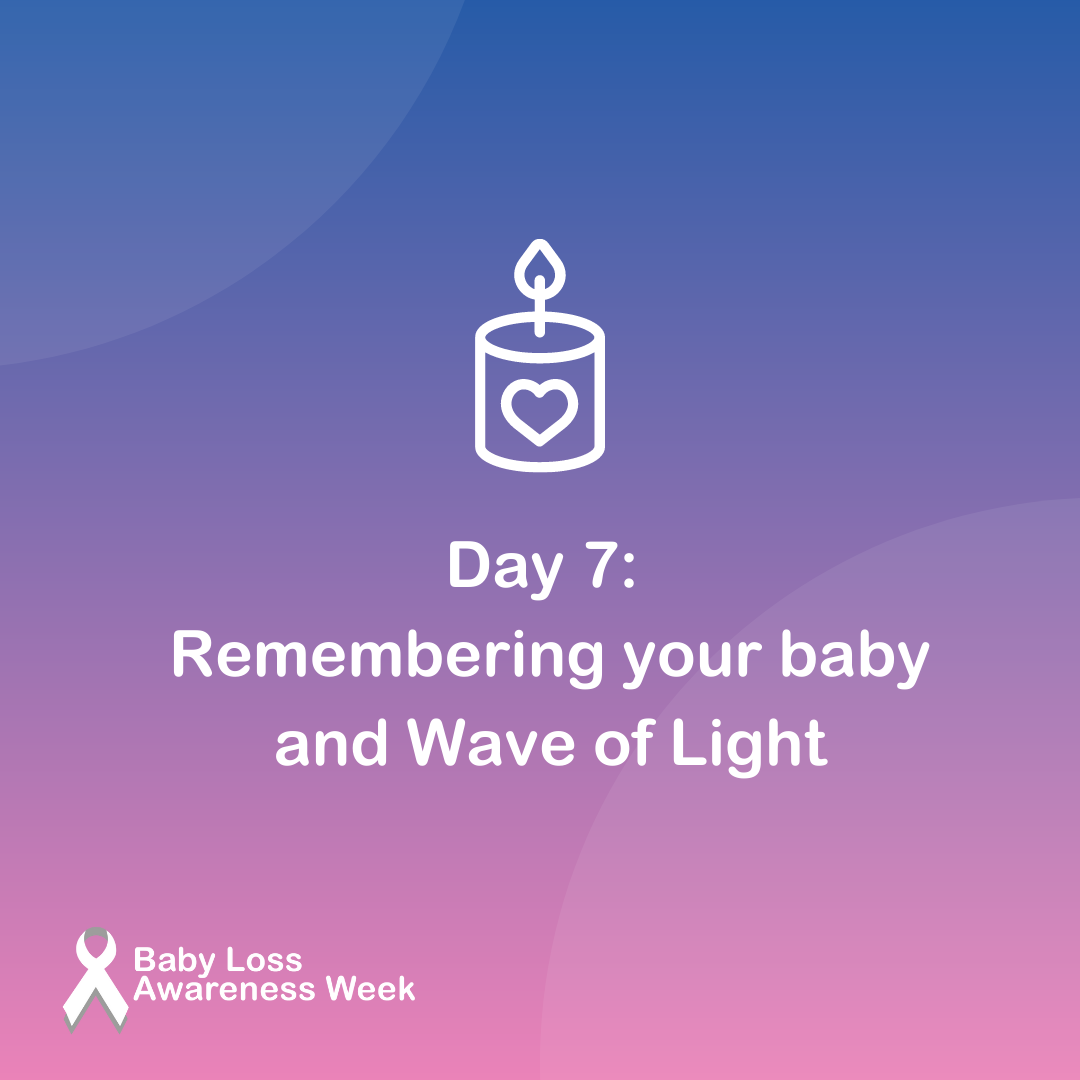 15 Oct

Final day of Baby Loss Awareness Week: Remembering your baby and Wave of Light

Families often tell us that having different opportunities to remember their baby provides them with comfort as they navigate their grief journey.​

The annual Wave of Light, that takes place on 15 October at 7pm (local time), is a special moment in the year where everyone in the baby loss community and beyond come together to remember, right across the world.
Ideas for remembering your baby or babies
The following tips are simply suggestions that we hope may be helpful, but it's all about finding what works for you.
Make Wave of light invitations for family, friends or colleagues (e.g. text or post templates… "Hello, I'm taking part in this year's 'Wave of Light' during

Baby Loss Awareness 

Week 

to remember 

[baby's name 

or

 'every baby who's loved but never forgotten'].

 I'd really like you to join me at 7pm on Friday 15 October at [xxx venue]. With love 

from, [xxx]."

​

Candle colouring page for bereaved siblings or cousins.

​

Candle display craft ideas and/or tutorials. 

​

Stone painting can be a way for children and adults to get involved in remembering a baby and placing a stone somewhere special. 

​

Bringing flowers or growing your own flowers, 

plant or tree in your baby's name can be a way to keep their memory alive.

​

A family activity on anniversaries or special days can bring you and your loved ones together in your baby's name.

​

Donating a gift or toy matching your baby's age on each birthday can help

 share your love for them with others,

 creating a legacy

.

​

Taking time away from it all on special days,

 to make space for any feelings that come up for you, 

is a way to remember your baby

and their imprint on your life.

Join a Remembrance Event if there is one near you – check out our map.
Make a Ribbon Remembrance display – we have a template you can download.
Wear your BLAW pin badge today.
Join the global Wave of Light at 7pm local time.
We will be sharing personal stories of loss throughout the day today, which you may find helpful.
Please remember also to take time to look after yourself today at the end of what is for many people a very emotional and tiring time. We have some tips on looking after your wellbeing and there are lots of organisations here to support you now and whenever you need this.