04 Oct

Helen's Story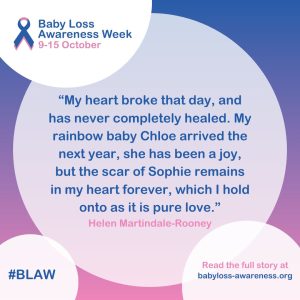 Sophie was my third child and my first daughter. We very much wanted a little girl to complete our family.
Back in 1982, scans were only done if there was any problems. I had a very good pregnancy, no problems at all. When I was 40 weeks +6 I went into labour, and Sophie arrived. We had about 30 seconds of joy, then the world turned upside down.
Sophie couldn't breathe. She was taken to the neonatal unit and was diagnosed with a diaphragmatic hernia. Then she was rushed from Cambridge to GOS in London and was operated on when only a few hours old. She died aged two days.
My heart broke that day, and has never completely healed. My rainbow baby Chloe arrived the next year, she has been a joy, but the scar of Sophie remains in my heart forever, which I hold onto as it is pure love.
---
There are many organisations that offer support to anyone affected by pregnancy and baby loss.