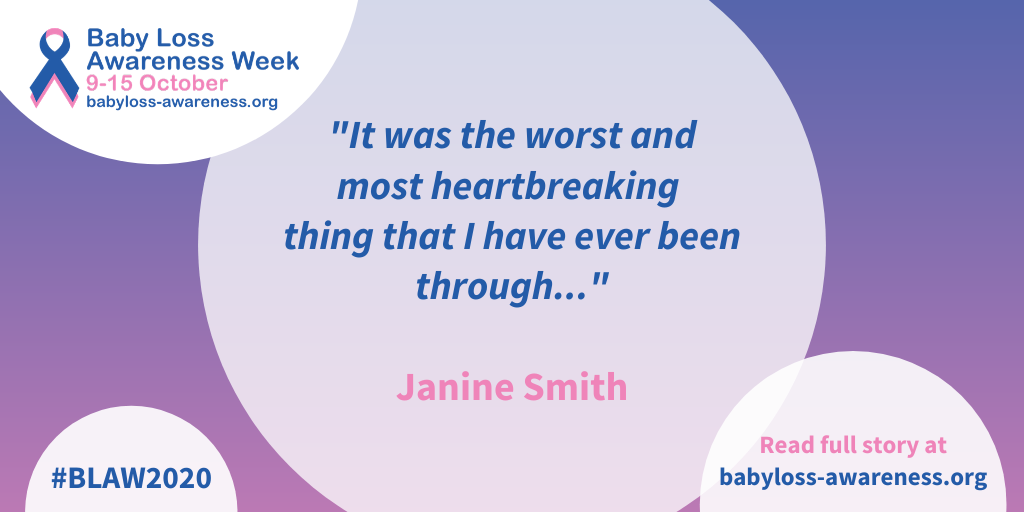 18 Feb

"We were told things weren't looking good…"

Janine contacted us with the story of her miscarriage during Baby Loss Awareness Week…

"We had been trying for a baby for 6 months so when I finally got a positive pregnancy test we were over the moon.
I got to 9 weeks pregnant and went for an early scan we couldn't wait to see our baby for the first time.

We were told, however, that things weren't looking good- the baby had stopped growing at 6 weeks and they told me that I had a missed miscarriage.

I had to have medication to encourage the miscarriage as my body didn't do it itself and it was the worst and most heartbreaking thing that I have ever been through, all of my pregnancy symptoms had gone and I just felt so empty and heartbroken.

We will never forget our Jellybean and I will always wonder what could have been."

If you have had a miscarriage or an experience similar to Janine, the Baby Loss Awareness Alliance Charities can help. View them all, including The Miscarriage Association and contact them directly here; https://babyloss-awareness.org/organisations/

If you need help now, please call The Miscarriage Association Helpline on 01924 200799 (Mon-Fri, 9am-4pm) or email info@miscarriageassociation.org.uk.